Tag: anthropogenic global warming
I have yet another grant deadline to deal with, this time for the Department of Defense Congressionally Directed Medical Research Programs, this time around its Breast Cancer Research Program. Unfortunately, that put a high degree of time pressure on me. Fortunately, there's still stuff in the archives of my not-so-secret other blog that I deem quite appropriate for this blog and that...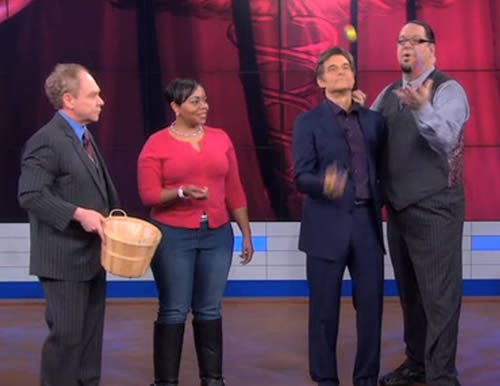 Dear Penn & Teller, I really don't want to say this, but I feel obligated to. I'm afraid you screwed up. Big time. (Of course, if this weren't a generally family-friendly blog, where we rarely go beyond PG-13 language, I'd use a term more like one that Penn would use to describe a massive fail, which, as you might guess, also...
One theme that we at Science-Based Medicine keep revisiting again and again is not so much a question of the science behind medical therapies (although we do discuss that issue arguably more than any other) but rather a question of why. Why is it that so many people cling so tenaciously to pseudoscience, quackery, and, frequently, conspiracy theories used by believers to...